I've been asked several times to share my Thanksgiving menus. Each year I like to choose a theme. Last year I went with a Southern Thanksgiving. This menu is filled with all the flavors that give southern food its unique flair. I've included links to the recipes, tips & tricks and photos from our meal last year.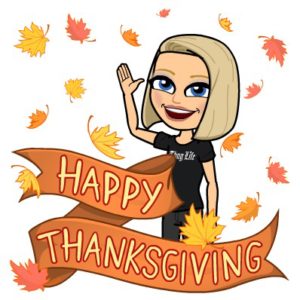 I never said this menu was going to be healthy but it's Thanksgiving. It's the one day a year it's socially acceptable to be gluttonous. Deep frying a turkey opens up highly coveted oven space. It also helps the meat stay moist and the skin to stay crispy.
This recipe makes use of a rotisserie attachment on your grill. It once agains free up space in the oven. You can always make this in the oven or in a pan on the grill if you don't have a rotisserie. I also insert cloves into my ham before cooking.
One negative to deep frying your turkey is you don't get all those yummy drippings needed to make gravy. I found this make ahead turkey gravy. It saved time on the big day by being prepped in advance.
At the last minute last year I decided to not make these as muffins. I was worried I wouldn't be able to remove them from the muffin pans without losing most of the stuffing. I followed the same recipe and just baked it in a 9×13 dish.
This macaroni and cheese uses all the flavors from a classic southern staple–pimento cheese. Again, not the healthiest recipe but for one day a year I don't feel bad about it and neither should you!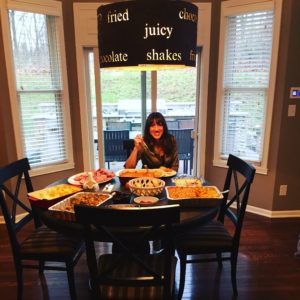 My favorite side dish at steakhouses is always creamed spinach. It's a go-to for me. I was doing some research on southern side dishes and found this recipe. It does use Velveeta which I know a lot of people don't like. However, it melts beautifully.
Black-Eyed Peas with Bacon and Pork
I love this side dish because you can utilize your slow cooker to make it. Who doesn't love a recipe that calls for pork shoulder and bacon? No one. That's who.
Sweet Potatoes
I don't have a recipe for last year's sweet potatoes. This one was brought by a family member. A big tip from me is to always utilize your guests to help cut down on your work. Thanks to the Kyle family for making and bringing these last year.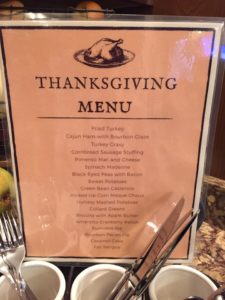 Green Bean Casserole
This is a Thanksgiving staple. Again, I utilized a family member to assist on this one. Thanks to the Driggers family for making and bringing this side dish last year.
This is by far my favorite Thanksgiving side dish! I had leftover andouille sausage from a crawfish boil we had earlier in the year. I added that and it made this dish! So good. This one will make the menu every year regardless of the theme!
Holiday Mashed Potatoes
I don't have a recipe for this one either. This is something my mother-in-law makes each year that my husband loves. It's almost like a mashed potato casserole. If I can get the recipe I will update the post!
Collard Greens
My husband's best friend Justin loves to cook like I do. Every year he and his wife Nicole (my best friend!) join us for Thanksgiving. Justin is always so respectful of honoring my theme. He had a recipe for collard greens so I told him to do his thang! They were so good!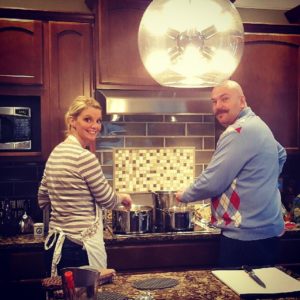 Biscuits with Apple Butter
My mom isn't much of a cook. So, every year I have her bring the bread/rolls/biscuits. Last year my mom brought biscuits from Cracker Barrel. I didn't make the apple butter. I purchased it from Williams-Sonoma. Again it's best to take assistance or shortcuts where you can.
Orange Amaretto Cranberry Sauce
I know a lot of people don't like cranberry sauce because it reminds them of the canned gelatinous junk. I didn't cook this down into a sauce but instead made it into a relish. Go a little lighter on the amaretto liqueur if they are children at your meal.
This is yet another full fat flavorful recipe. Paula Deen doesn't play when it comes to southern food. This pumpkin pie turned out great and will probably be a go to for my menus for years to come.
As a kid I can remember pecan pie giving my grandma fits. It can be really finicky. A lot of times it won't set and firm up. I was a little nervous about making this recipe for the first time for Thanksgiving but it turned out beautifully.
In my research I found caramel cake is a pretty popular southern staple. I can cook but baking isn't for me. So, I found a lovely place in Broad Ripple that sells southern style caramel cake. It's pricey but it was totally worth it for Thanksgiving.
Some years if I'm feeling particularly ambitious I will make a signature drink. Sangria is usually very easy and most people enjoy it. This one brought together the fall flavors of apple cider and cinnamon and wine.